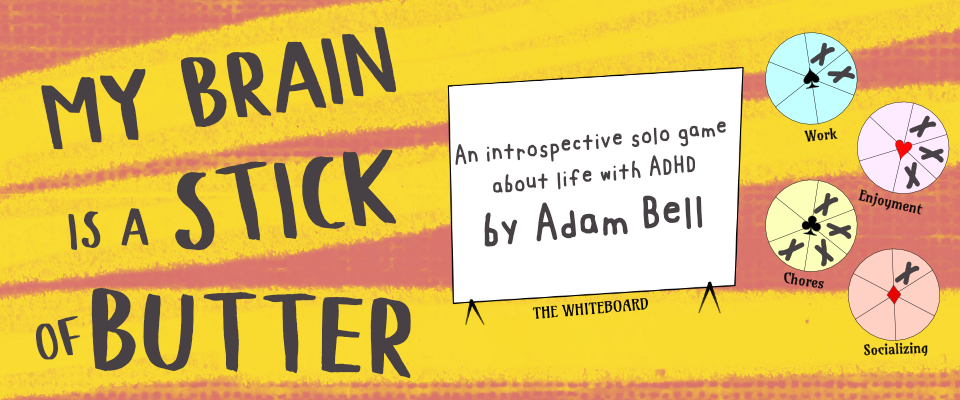 My Brain Is A Stick Of Butter
Get a physical copy at adamebell.games!

my brain is a stick of butter is a solo tabletop roleplaying game about living a week with ADHD and how hard it can be to balance all of the tasks life expects you to complete. It takes about 30-60 minutes to play, at which point you can step out of the game world and back into your real life. You'll need the book (or a printout of the playsheet), a deck of playing cards, and a six-sided die to play.
Go about your days trying to do your job, maintain your social relationships, get all your chores done, and find time to enjoy yourself. It's not exactly intended to be a fun game to play, but I do believe you'll find it to be informative. You might not get everything done that you want to this week, but you will hopefully learn a lot about life with ADHD after playing.
The game is designed to replicate my personal experience with the constant background thrum of executive dysfunction that stems from my ADHD. The deck of cards and the Brain Die are meant to represent the lack of agency I feel when choosing what tasks I focus on at any given time. A lot of times, things go according to plan. But just as often, my mind and my attention are pulled in another direction.
The first step is to create your character--I usually just play as myself but you can play as a fictional character if you'd rather. Characters are mostly comprised of reminders of the things you like to do and the people you like to stay in contact with.
The game is played out over the course of a week. Each day of the week is split into 4-6 rounds, depending on how much sleep debt you're accumulating.
To play a round, you first decide if you'd like to keep working on the same thing you've been working on-- your chores, your work, social activities, or focusing on your own enjoyment. If you're shifting tasks, you pull cards from the deck to see if you're able to switch or if another task jumps out at you instead.
Then you'll roll the Brain Die to see how well you stay on track on the chosen task.
Depending on the result, you may be ticking the current task's clock. Each of the four main tasks is represented by a 6-piece pie chart. The clock represents the proportion of that task's progress that you've made relative to how much you had hoped to accomplish that week.
As you play the rounds, you'll be writing what you accomplish on the Whiteboard. This helps you keep track of the things you've done so far. If you can't remember the last thing you did in the active task, you'll erase a tick in its clock as you retrace your steps, so having a written record of recent tasks is handy. Sometimes, when you're pulled away by the Brain Die, you will have to erase the Whiteboard. This emulates how jarring it can be to be interrupted while you're in a groove.
Purchase
In order to download this game you must purchase it at or above the minimum price of $8 USD. You will get access to the following files:
My Brain is a Stick of Butter
30 MB
playsheet full letter black & white.pdf
2 MB
playsheet full letter color.pdf
3 MB
Exclusive content
Support this game at or above a special price point to receive something exclusive.
Free Copies
Please take one if you're unable to purchase the game! No questions asked, and I'll make sure to always keep them stocked